United States Concealed Carry Association (USCCA) will be offering a FREE online concealed carry training presentation. Click below for more info.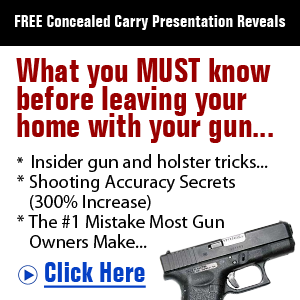 Concealed Carry Training Presentation Highlights:
Insider tricks to discover which concealed carry holster and style are the best for you...
You'll find out 4 Surprisingly-Easy "Gun Rules" To Keep You Safe and Handle a Gun Like A Pro
The little-known way to improve your accuracy by up to 300% (in as little as 60 minutes)...
What the moment of truth will actually be like when you have to defend yourself with your gun...
13 simple steps to condition your mind and body to react AUTOMATICALLY to a violent attack.
How to train for a violent encounter without spending a dime (do this and you'll be better prepared than 90% of people that go to live training events)...
What you MUST do after the shooting to survive and stay out of prison...